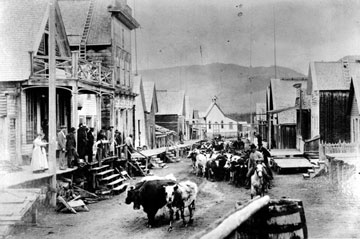 The Quesnel Rodeo is the largest amateur rodeo in British Columbia and proud to be a member of the British Columbia Rodeo Association. Our volunteer committee works hard to keep us one of the most exciting and entertaining rodeos in British Columbia. The Quesnel Rodeo Club, was formed in 1966 and is producing its forty forth year this year. However, the roots of the Quesnel Rodeo goes back another hundred years. Back to the 1860's, when enterprising cattlemen and their hardy cowboys drove thousands of cattle into the Cariboo from present day Washington and Idaho States to feed the hungry miners searching for gold during the Cariboo Gold Rush. Some cattle were driven as far as one thousand miles, taking many months to complete. It has been estimated that a 1000 head of cattle were needed each year to feed these hungry miners. A number of these miners found success when they gave up searching for that elusive yellow metal in the ground and started some of the earliest cattle ranches in the Cariboo, then sold beef to the miners. Some of these ranches are still in operation today.
The same skills, determination, commitment, fortitude and willingness to, as they say "
Cowboy –Up
" that was required by the cowboys and cowgirls who first drove cattle into the Cariboo and started these early ranches, is reflected and valued by the cowboys and cowgirls who compete at the Quesnel Rodeo.
The cowboys and cowgirls you will be watching at our rodeo will share the rodeo arena with rodeo livestock. These animals, in their own right, are well conditioned athletes. Without well conditioned and healthy animals, the cowboys and cowgirls would not be able to compete at their best.
In some events, such as saddle bronc, it's the cowboy competing against a four-legged athlete. In other events, such as barrel racing, it's a joint effort - the combined skill and conditioning of the horse and the rider which wins the round. So if you should find yourself cheering for the bulls, or the bucking horses, don't feel bad.. . you're cheering for a fine athlete.