Livestock Contractors
– C Plus Rodeos and Wild West Entertainment.
Rodeo Announcer

– Al Parsons, The Quesnel Rodeo Committee is pleased to have had Al Parsons as our announcer for the 2011 BCRA Finals. www.alparsons.org
Rodeo Clown

–JJ Harrison, www. jjharrison.com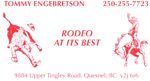 Photographers - Thank you to Rodeo Photographer, Tommy Engebretson, for supplying our homepage rodeo photos and the overall website header photo.